"Learning is the process whereby knowledge is created through the transformation of experience." (David Kolb)
Using theoretical introductions, SMG instructors present progressive practical skills through kinesthetic training.
Each practical exercise is tested to goal-expectation before moving the next sequence of goals, with data-driven results demonstrating growth ensuring that pilot and employer are clear on expectations and successes.
A "Train the Trainer"/Instructor program encourages organizations to self-manage their training program for future pilot development, bringing best-practice industry standards and risk management protocols for medium to large organizations.
Using best practices and current techniques in delivery of training methods, attendees will be exposed to and absorb Purpose/Assessment, Planning/Preparation, Presentation/Facilitation, and Performance/Evaluation. New instructors will be exposed to critical training skills and seasoned trainers will be introduced to new approaches for delivering powerful training.
Grounded in the real world, trainers are trained for, evaluated, and scored in mock scenarios using specific learning objective exercises. SMG Examiners train to a Part 141 standard, hence the higher flight hour requirements compared to other programs. Our I/E's stem from other Parts in the FAA CFR's and have translated part 61, 103, 105 and 141* experience into the Part 107 program. Attendees should plan on long days self-teaching outside the classroom, and partnering with other candidates to gain confidence and ability to clearly teach the curriculum back to the Examiners. We train to the FITS protocol.
The Instructor program provides: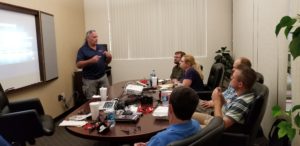 Understanding the specific scope/needs (who, what, how) of training objectives
Participant-oriented tools and exercises
An understanding of the kinesthetic/muscle-memory experience and accelerated cognitive processes
How to prepare for a training session
An understanding of the primacy/recency/curve process to adult learning
How to address challenging participants and difficult behaviors
Methodologies of participant evaluation

Specific assessments at all five levels of evaluating participants
Description

Training Time

(5 days)

Classroom Training
30 hours (4 days)
Field Instruction with Students (Practical Test)
4 hours (.5 day)
Testing (Theoretical/Classroom)
2 hours (.25 day)
Total Training time
36 hours
This is a full week course.
Required qualifications:
sUAS instructor candidates must have the following qualifications:
Must have a valid 107/RPIC certification
A minimum of 200 logged sUAS flight hours
Some teaching or public speaking experience is highly recommended
Current resume showcasing sUAS projects and a list of aircraft flown
Candidates must also schedule an advance interview with the Instructor Examiner to ensure alignment within the Sundance Media Group expectation of professional, world-class instruction.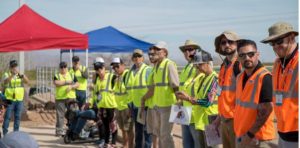 SMG Instructor Candidate Certificate (additional ½-day program):
SMG provides all the course materials, curriculum and handouts required
Visibility on SMG's website as an authorized instructor
SMG handles all instruction inquires, customer acquisition & training invoicing, payroll and schedules all the classes for the SMG sUAS Instructor. (Including any required travel arrangements)
Wholesale pricing on any of SMG's published books for distribution / sale
*VA financing not currently available