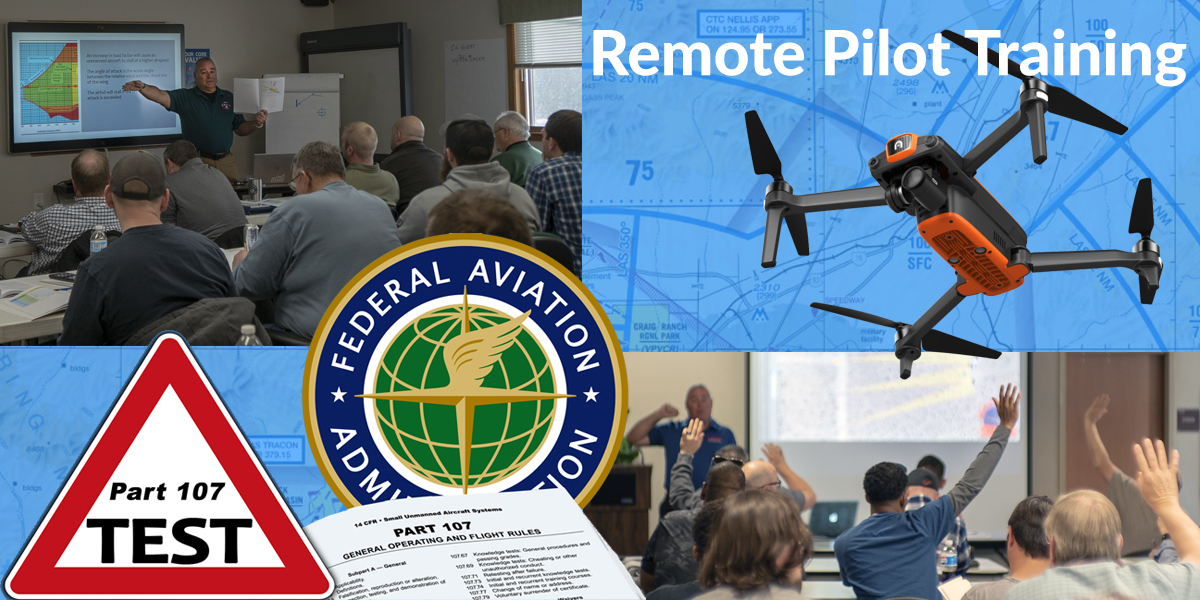 Two-Day Intensive 107 Training Workshop – LIVE WEBINAR
February 17 @ 8:00 am

-

February 18 @ 4:00 pm

PST

|

$195
Use PROMO CODE SMGVIP2021 when registering

This two-day intensive 107 training workshop will cover the major areas of the FAA Part 107 Aeronautical Knowledge Test. Course will cover Regulations, National Airspace System (NAS), Weather, Loading and Performance, and Operations.
Each participant will be introduced to the ASA prep-test manual (details below on where to find this training tool) and will have an opportunity to work with aeronautical charts and learn to identify location, airspaces, restricted areas, military operation areas and other special use airspaces. Each participant will understand the regulations with UAV operations including distance from clouds, registering aircraft, weight limits and more. Upon completion of this course, attendees will be well prepared with required knowledge and resources to complete the Part 107 Initial Aeronautical Knowledge Test.
Included in this two-day intensive 107 training workshop we will discuss real-world situations for commercial UAV pilots and mitigation of challenging situations. Examples are drones in the agricultural workflow, public safety applications, property owners, other UAV pilots, and state/federal government representatives.
Additional Learning Objectives:
Establishing your Pre-Flight/Post-Flight procedures

Follow-on testing material (online)

Best UAS Practices

FAA changes and directions

Low Altitude Authorization Network Coordination (LAANC)

Radio procedures
PLEASE NOTE:  It is highly recommended that attendees purchase the ASA Test Prep Remote Pilot 2021 book as this will be used as an aid for the course.
This physical manual includes multiple choice questions that are available for the 107 Certification test and it will include a hard copy of the Airman Knowledge Testing Supplement for Sport Pilot, Recreational Pilot, Remote Pilot, and Private Pilot.  This is the actual booklet that you will use when you write the remote test and we will be using this supplement during the course.  This handbook is available for download (as a PDF) from the FAA as well, but we do recommend purchasing the kit as it's incredibly helpful for studying for the test.
Download the document here (for free):    https://www.faa.gov/training_testing/testing/supplements/media/sport_rec_private_akts.pdf
Some of our favorite vendors to purchase the full kit (both booklets):
My Pilot Store: $16.50